I got a call from his mother telling me that he had some pain in his wrist while lifting weights. He finished the sports season before coming in, though. She asked me to take a look at him, and give any advice I might have on what might be the problem and what he could do about it. He came to the clinic with his dad, with limited wrist movement in all directions, pain along the thumb side (radial side) of the wrist, and no swelling, redness, numbness or tingling.
Backstory…
Although his wrist had started bothering him a few months earlier, when he increased his lifting weights to improve his sports conditioning, he remembers an injury about a year ago: he stepped in to play goalie (a position he normally doesn't play) and a ball hit his hand…HARD.
He had some pain, and assumed that he had just sprained it, and wore a brace while playing soccer for a while after that. It eventually stopped bothering him until he changed his weight training routine to add lifts such as the clean and jerk, which pushed his wrist into extension.
The Real Problem
The previous "sprain," his pain with extension, his limited and stiff motion, and pain when I pushed into his "snuffbox" suggested that he may have broken his scaphoid bone (in his wrist) when he was struck by the soccer ball.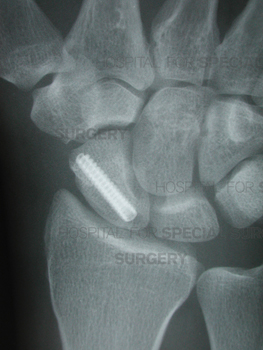 Most scaphoid fractures occur in FOOSH injuries (Fall On Outstretched Hand) but stress fractures, due to repeated ball strikes during long hours spent playing and practicing as a soccer goalie, have been reported.
I didn't initiate any treatment, and asked that he see a hand surgeon. I knew that if there was no problem that would prevent us from working on his stiffness, the hand surgeon would be able to clear him quickly and accurately.
On the other hand, if he had an unhealed scaphoid fracture (non-union) then he would likely require surgery – either to pin it back together in order to heal or to correct additional problems that resulted from the unhealed fracture. It's better to start that process now rather than wait to go through multiple physician referrals.
His mother sent me a note:
Rob said "You can tell the PT we saw the other day he was right. [Patient] has the dreaded scaphoid fracture nonunion proximal pole issue. Ugh."
Read this article on Scaphoid Fractures for more information: https://www.hss.edu/conditions_scaphoid-fractures-non-union-wrist-fractures.asp